The IT landscape from Spain, distilled
Commit is the conference where we get together to discuss different approaches to our way of developing and managing software. Come with us for two days of sharing and learning about all things IT, and an opportunity to break your routine and experience something new.
Come for the foosball, the retro arcade and the hobbit-sized Jenga. Come for the networking. Bring your friends, make some new.
We are excited to have you here.
Get Your Ticket Last Tickets Available Go to the agenda The agenda is already online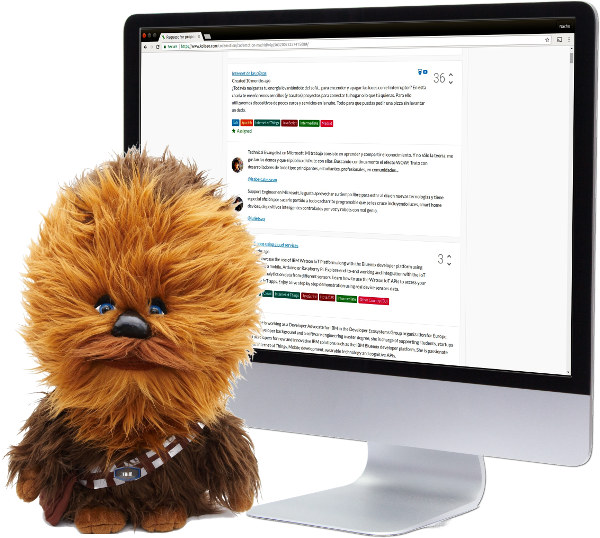 The agenda
After several hours spent by our team and communities voting and reviewing all the talks received, we finally have the agenda for Commit 2018!
The level of the talks was great but unfortunately we can't include all of them. Take a look at our awesome agenda.

Universidad San Pablo CEU, Campus de Montepríncipe. Boadilla del monte, Madrid · Open in Google Maps
How To Get There
Our parking has limited capacity, and we will be quite a few. We recommend using public transport, which is surprisingly simple
Free Shuttles
We provide a free shuttle service to/from Plaza de España that takes 20 minutes to do a one-way trip. We have adjusted the schedule according to our experience, but we cannot guarantee seats for everyone in every shuttle. You will find the timetable and more details about the transfer in our blog starting from October.
Renfe discount
Renfe offers a 30% discount to attend Commit. This offer is valid for all trains and all national travels, for one-way or round-trips, but cannot be combined with any other commercial offer. Here you can read more about how this works.
Important: to get this special fare you will need a discount card, that is strictly personal and that must show your name. You will be required to show the discount card, together with your train ticket, at the train station or during your trip by the train inspector. To obtain your personal discount card, you have to email us at info@commit-conf.com, providing your Commit ticket as attachment.
Iberia discount
Iberia offers a 10% discount on the purchase of tickets to Madrid. The discount applies on journeys from 5 days before up to 5 days after Commit. Before ending your booking at www.iberia.com, use the section "I have a promotional code" to enter the code COMMIT18.
This offer only applies to fixed date flights (no including Air Bridge flights) operated by Iberia, Iberia Express and Air Nostrum) and it does not include lines with a shared code (IB7000, IB5000, IB4000). In the case of reservations in which the promotional code is not included before the end of the process, the discount will not apply.
Hotel discounts
Eurostars iHotel offers a 10% discount on selected nights (November 22, 23 and 24). Use the discount code COMMIT when booking on their website.
The NH Ciudad de la Imagen hotel offers a special price on double rooms (89€ +VAT) and double rooms for single use (80€ +VAT), both breakfast included. Use the following link to access this promotion (while rooms last).
---
Our Communities
This event is only possible because of the invaluable content and effort contributed by our communities.
Subscribe to our mailing list
Get notified when we announce any changes or publish the final agenda
Subscribe